What to see in Venice in one day
Visiting Venice in one day is almost a mission impossible. This city, so special and unique, deserves way more time to be properly explored. Nevertheless, its shape makes it easy to discover all the city's best spots on foot or, if necessary, by water transport. If you are wondering what to see in Venice in one day, in this article you will find the perfect itinerary for you, explained step by step. We'll start from Venice Santa Lucia train station and we'll proceed  in a circular way. Wear comfy shoes and… let's get started!
Keep in mind that, in order to reach Venice from Jesolo, Park Hotel Brasilia suggests you the Moby Dick II transport service. For any further information, the reception staff will be glad to help you.
Scuola Grande di San Rocco
With its breathtaking decorations, this building deserves to be mentioned as one of the most important in Venice. Its construction dates back to the early 16th century and it is a must-see because Tintoretto took 24 years to complete the frescos on its walls and ceilings. Majestic is the result of his work.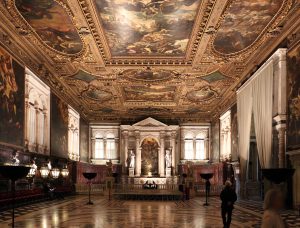 Campo Santa Margherita
First of all, keep in mind that  for Venetian people "campo" means square. We definitely want you to take the best out of your one-day visit to Venice, to make you fully appreciate its inestimable historical and artistic patrimony. Nevertheless, we also believe that feeling as a local is always a great way to experience the authenticity of any city.  Campo Santa Margherita is the perfect place to take a short break, for instance, sipping a traditional Venetian spritz. Sounds good, right?
Squero di San Trovaso
Less than 10 minutes far from Campo Santa Margherita you will find the Squero di San Trovaso. In Venetian "squero" means construction site and it takes its name from a tool used to build boats. It dates back to the Seventeenth Century and nowadays it is one of the very few places where gondole, the iconic Venetian boats, are built and fixed.
Ponte dell'Accademia
Among the bridges that cross the Canal Grande, this is the southernmost. It is a "must-cross" bridge because of its nice view over the canal. It's also a really nice spot to take pictures!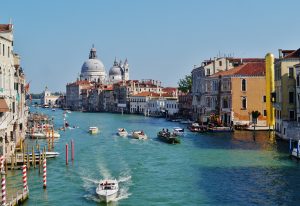 Campo Santo Stefano
We are slowly approaching Piazza San Marco. But first let's walk across Campo Santo Stefano, continue towards La Fenice theater and admire at least its external façade. Last but not least, visit the Bovolo staircase, one of the few panoramic points in Venice. If you're wondering which are the other ones, we suggest you to read this post: Elegance and history at the T Fondaco dei Tedeschi.
Piazza San Marco
We are finally  reaching the magnificent Piazza San Marco, Venice's icon. This square is well-known and loved all over the world, which makes it a must-see of your itinerary. Here you can visit the Basilica , the belltower and Palazzo Ducale. Since you're taking just a one-day visit, pick only one of them according to your interests. Whatever your decide to go for, it won't let you down!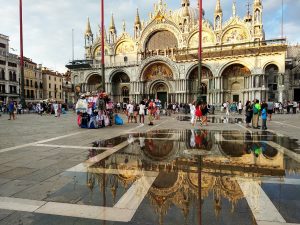 Ponte dei Sospiri
A few steps away from Piazza San Marco you can find one of the most photographed bridges in Venice: the Ponte dei Sospiri. It is not just a star of the camera, it also boasts one of the most peculiar stories.  The Ponte dei Sospiri (the Italian word "sospiro" means sigh) owes its name to the purpose it was built for: connecting the Prigioni Nuove (New Prisons) to the Palazzo Ducale through a double passage. It is indeed said that the prisoners used to sigh by crossing the bridge, aware that that would have been the very last time in the outside world before their imprisonment.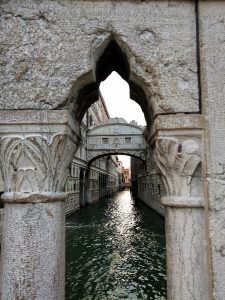 Libreria Acqua Alta
It is also thanks to Instagram if the Acqua Alta bookshop has become the most photographed one in Venice. Make a stop here to take some statement pictures, surrounded by hundreds of books wisely arranged in order to – as the name suggests – escape from the phenomenon of high water (acqua alta), a constant threat in Venice. You'll find the books piled up in boats, gondolas and even in a bathtub.
Ponte di Rialto
Let's now come to another undisputed icon of Venice: the Rialto Bridge. Of the four bridges that cross the Canal Grande, Rialto is the oldest one. Its name seems to come from Rivoaltus, one of the first settlements in the city. You'll realize how majestic it is once you'll have it before your eyes: its arch is 28 meters and  22 meters wide. Take your time not only to cross it and look over the Canal Grande, but also to admire the bridge from different perspectives from below.
Cannareggio
As well as for Campo Santa Margherita, this is another perfect place to dive into Venice's authenticity. On your way back to the train station walk through the neighborhood of Cannareggio . Especially during the weekends, this area is very popular and it's an ideal spot to have an aperitivo, to sip an ombra (small glass) of wine and to taste some cicchetti (local tapas) in one of the many bacari (traditional Venetian wine bars/small restaurants) you'll find on your way.