Family fun in the most exciting parks of Jesolo
Caribe Bay: the water park with a Caribbean flavor.
Caribe Bay water park in Jesolo has been recognised for 11 times as Italy's best water park. Its name immediately evokes paradise-like, tropical scenarios. Just a fantasy? Not at all! This park will really make you think to be in the Caribbean! Simulating a tropical island in the heart of Jesolo, Caribe Bay, unique of its kind, is ready to welcome you with its white sand beaches and over 500 palm trees.
Caribe Bay is a brilliant mix of fun, relax and extreme sports. There are 27 attractions, and, besides the aquatic ones, you can also count on adrenaline ones, such as Captain Spacemaker and the tallest Bungee Jumping tower in Europe. Ready for that?
Caribe Bay is a perfect choice to combine fun for kids, teen-agers and adults. While kids can play at the Family Land, teen-agers and adults can relax on the white beaches or go for adrenaline attractions.
Address: Via Michelangelo Buonarroti, 15/A.
Opening Times: from June 1st to September 15th, every day from 10am to 6pm.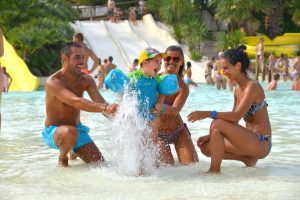 Tropicarium Park: three thematic tropical areas.
Your kids will be impressed by the 400 animal species housed in this park, right inside the Palazzo del Turismo in Piazza Brescia.
There are three thematic areas: Tropicarium, Predators and Acquarium. Each area faithfully reproduces the habitats of the animals it is home to: in the Tropicarium, the largest area, you can for instance admire amphibians, reptiles, snakes and cute Magellanic Penguins. In the Predators area you will get to take a closer look to crocodiles and sharks, while, in the Acquarium, you'll find many colorful tropical fishes.
An educational and exciting experience to make your children discover some of the most interesting and ancient species of our planet. It's good to know that the entire path takes place indoor. The Tropicarium Park is therefore an excellent choice in case of bad weather too.
Address: Palazzo del Turismo in Piazza Brescia
Opening Times: Every day from 10 am to 7pm
New Jesolandia: the Luna Park par excellence.
New Jesolandia occupies an area of 20.000sqm at the entrance of Lido di Jesolo. It offers attractions and fun to adults and kids, with a special attention to families.
There are around 50 attractions together with sweets stalls and relax areas. Entertainment and special events are also there to make your visit even more exciting. Free shuttle buses run every 30 minutes from the main piazzas of Jesolo to the park.
Address: via Lucio Battisti
Opening Times: every night from 8 pm
SEA LIFE Jesolo: discovering marine species.
SEA LIFE Jesolo knows how charming the underwater world is. That's why you and your family cannot say no to its 16 thematic areas and to its more than 30 tanks with over 3000 sea creatures.
The recommended route lasts about 1 hour and starts with the species typical of our area. It then ends with tropical fishes, such as sharks, clown fish, rays and the dreaded Piranha. The most exciting spot of the park is definitely its underwater tunnel. A path where, completely surrounded by water, you will feel immersed (literally!) in the fantastic and colorful underwater world.
We remind you that at the hotel reception you can find SEA Life entrance tickets at a special price reserved to our guests.
Address: Piazza Venezia, 28/29 c/o Laguna Shopping Center
Opening Times: Mon-Sun 10am-6pm (June and September), Mon- Fri 10am-1pm / Sat – Sun 10am-6pm (July and August).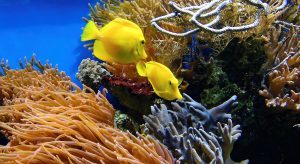 The Wheel of Venice: for a limitless top view.
Get on this big Ferris wheel to admire the Lido di Jesolo from a height of 60 meters. Each cabin can accommodate up to 6 adults and 2 children and the ride lasts about 10 minutes.
The Ferris wheel is an icon for all of us: it charms children and it brings adults back to their childhood. An evergreen you simply cannot miss!
Address: Piazza Brescia
Opening Times: every day from 5pm to midnight